Find a Lawyer Android Mobile App for Legal Advice – GOCOURT
Go Court is the simple yet intuitive android lawyer App developed for making the practice of lawyers around the world simple. This allows you to manage all your matters from the palm of your hand whenever, wherever you are. This software enables lawyers and client relationship managers to send information and updates to their clients by using fingertip. Go court can keep your small, medium or large law firm to improve processes and delight clients.
Benefits of GO COURT
Manage your law firm operations through mobile
Boost your firm on the market
Build loyal relationships with clients
Protect and support your clients at any time
Spend time and money wisely.
Get more referrals
Keep existing clients and connect to new ones.
Features
Simple yet intuitive Design
Developed in native android.
Filter by Location.
Manage Client and schedules related to them.
Can add multiple courts, locations.
Options to set and edit working hours.
Schedule Appointments and Court Dates.
Calendar for viewing schedules.
Option to set Reminders for scheduled.
Options for backup and restore data.
Customizable- Full Source Code.
Screens of GO COURT App
Home Screen:
This is a simple app that include a calendar, schedule and client tab so that you can keep track of your upcoming and completed schedule list with particular date and time along with the client details.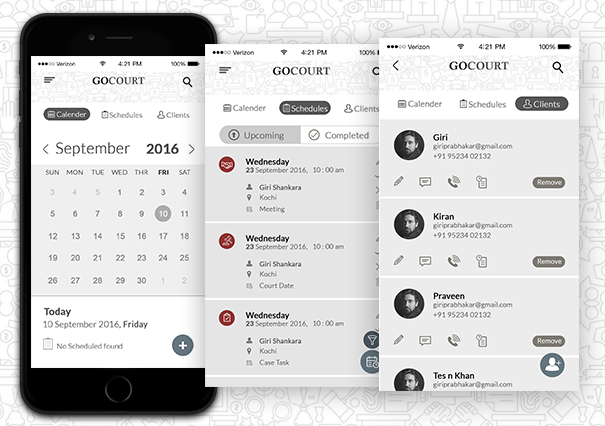 Profile Screen:
The platform allows you to create your profile. That make visible to the clients and easy to access.